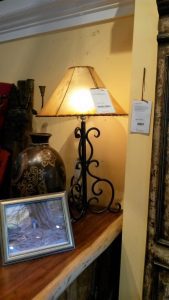 Summertime is a great time to refresh your interiors, and at Primitives, we want to help you by providing a great selection of home accents and furniture pieces that are sure to serve as quality, lifetime investments in your home. However, if you're not looking to buy something new, or if you want to try a different way of updating your favorite furniture, you can always try some of these great methods:
Fresh Coats
Refinishing or repainting your wood furniture can be a great way to update its look and prepare it for a new life in your home. If you own an old, scratched up piece (but it's still strong and sturdy), get creative and utilize fun paint colors or even mosaic detailing to give it new life.
New Fabric
Sofas, chairs, and ottomans can all be refreshed by getting them reupholstered. You can seek a professional or even give it a try on your own. For your bedroom and dining room, seek some fresh bedding, new tablecloths, and napkins. Curtains can also help bring the look together.
Accents
Kick up your current wooden furniture in Austin by choosing new accent pieces that make the room pop. Pillows, curtains, and area rugs are just a few accent pieces that can help revive that old sofa or give your faded hallway the new look it needs.