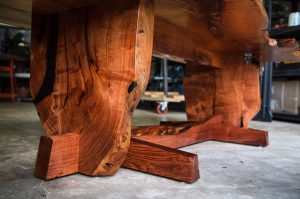 When shopping for primitive home furnishings made of solid wood, you likely have a preference when it comes to the finish. The type of finish on a piece of furniture will notably affect the look of the wood, and the color will affect how the furniture will tie in with the rest of the room.
Sanding is the first step of the finishing process. A good quality dresser or table will be smooth, so you should feel no rough patches or scratches as you run your hand over it. Be sure to inspect the finish from different angles to check for uneven areas such as these.
Also, a piece of furniture that has been properly sanded will take the stain evenly. When done right, staining enhances the natural beauty of the wood while adding color. When furniture is not stained properly, blotchiness or dark spots will likely be noticeable. All sides and ends of the piece should also be the same tone.
When it comes to finishes, they can range from high-gloss to matte. You can identify a high-quality finish if it is satiny smooth and free of rough spots or bubbles. Avoid pieces that are not finished on the back or underside, as to reduce the chances of swelling or shrinking.